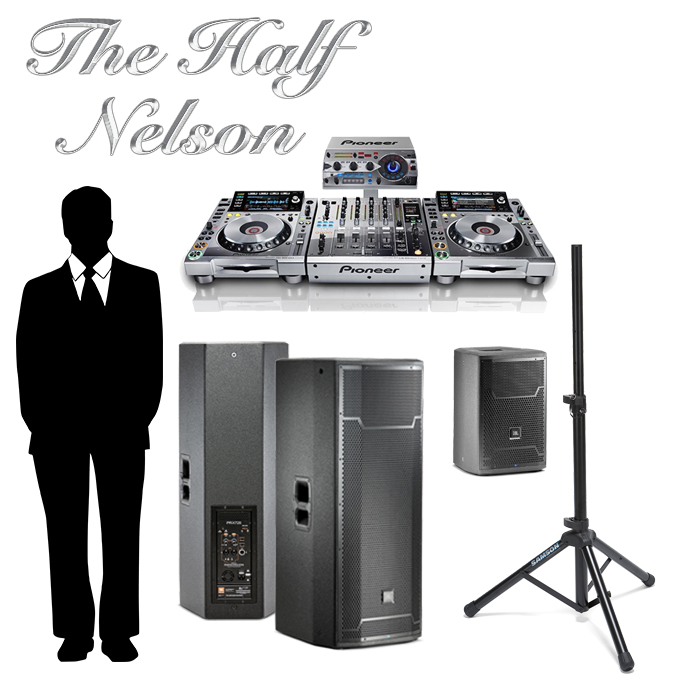 The Half Nelson
All of our equipment packages are based around acknowledged "industry standard" technologies.

What this means to you is that when you hire one of our systems, you can be sure you will be getting the very best equipment available. Why is this important? Because if you're throwing a high profile party or event, you need to be sure of the quality and the reliability of the equipment you hire. That's why choosing Ibiza Platinum Sound makes sense.

The Half Nelson is our mid-range package, aimed at events with audiences of up to 50-100. The cornerstones of the system are the superb dual 15″ two-way full-range speakers from the AWARD WINNING JBL PRX700 Series. These speakers deliver a clear, rich and warm sound with a high level of performance over a broad bandwidth.

Add to this the world renowned quality, durability and rock-solid reliability of the Pioneer Platinum Edition CDJ decks and mixer and you have a truly world class system… Delivered, set up and collected free of charge, wherever you are in Ibiza.
The Half Nelson consists of:
Price: €320.00 per 24 hours
Need more bass? Add one or two JBL SRX818SP 18″ Subwoofers for an additional €50.00 each.